Carefully Designed Dentures with a Lifelike Look
Custom-made dentures from our Green Hills office in Nashville, TN, can replace several adjacent missing teeth or your entire upper or lower dental arch. Dentures can restore the form and function of your smile, allowing you to enjoy an unrestricted diet and a healthy sense of self-confidence. Dr. Jerry Hancock offers several types of dentures, including full, partial, and implant-supported restorations. In all cases, he will work meticulously during the design process, using precise impressions of your smile to provide a comfortable prosthetic. Our lab also uses top-of-the-line materials so your denture will be virtually identical to your natural teeth.
Types of Dentures
Dentures are simple yet highly effective oral appliances that can replace missing or damaged teeth. The type of denture you receive will depend on the number of teeth that need to be replaced and your goals for treatment.
A full denture will replace your entire upper or lower dental arch. A plastic base will fit around your gums and will match the natural color of your soft tissues. Synthetic teeth made from porcelain or zirconia will rest on top. A traditional full denture will be removable, so you will typically need to use denture adhesive to secure it in place. You should remove your prosthetic for daily cleaning and store it in water or a special solution overnight.
A partial denture will replace several adjacent teeth. Similar to a full denture, it will have a natural-colored base. It will also come with subtle metal clips that keep it connected to the teeth. You should care for a partial denture just as you would a full prosthetic.
Implant-supported dentures can be either full or partial. Instead of fitting around your gums, these prosthetics connect directly to implant posts, which will be set surgically in your jaw. Patients who are looking to replace a full row or more of teeth may want to consider the benefits of All-on-4® implants.
Designing Your Dentures
When you think of dentures, you may picture a loose or unnatural-looking restoration. However, thanks to Dr. Hancock's precision, your restoration will be virtually indistinguishable from your natural teeth. During your consultation, Dr. Hancock will discuss your goals for treatment and your budget. He will also evaluate your oral health to establish the most appropriate type of denture for you. If you are receiving a traditional denture, he will take an impression of your jaws. If you choose an implant-supported denture, he will instead begin planning your implant surgery. He will measure your gums and the healthy teeth that remain. He will also consider the proportions of your mouth, jaw, and face. With this approach, he can ensure that your denture will harmonize with your overall look.
In some cases, Dr. Hancock may need to perform preparatory treatment before he can provide your restoration. For example, if you have gum disease, you will first need periodontal care, such as scaling and root planing. Alternatively, Dr. Hancock may need to extract severely damaged teeth in preparation for your denture.
The Benefits of Dentures
If you are missing a number of teeth, dentures can greatly improve your quality of life. First, with your restoration in place, you will have improved dental function. You will be able to speak more clearly and you will be able to enjoy a more varied diet. This is especially true if you receive an implant-supported denture, since this type of restoration will never slip out of place. Second, your prosthetic will dramatically enhance your appearance by replacing your missing teeth to give you a healthy and rejuvenated look. At the same time, it will support your lips and cheeks to prevent sunken features. With these combined effects, you can feel confident about your appearance. You can also feel more self-assured going out to eat, speaking in public, and laughing freely.
---
After discussing your goals and assessing the state of your bite, Dr. Hancock can recommend the right denture for you.

---
Other Types of Dentures and Services
Dr. Hancock offers a range of dentures to meet his patients' needs:
No-metal Partials:
No-metal partials forego metal hooks for a more aesthetic smile.
---
Immediate Dentures: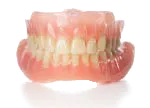 We can provide dentures immediately following tooth extraction that restore function and appearance while facilitating the healing process. They will be replaced with a permanent denture when the gums heal.
---
Denture Stabilization:

Your current denture is retrofitted to attach to implants, creating a very stable and comfortable restoration.

---
Relines and Repairs:
Any relines or repairs are performed quickly and efficiently by our quality lab.

---
Schedule Your Consultation Today
If you are struggling with widespread tooth loss and want to reclaim both your confidence and your oral health, call us at (615) 383-0132 or contact us online to receive your custom denture. After discussing your goals and assessing the state of your bite, he can recommend the right denture for you.
Related to This